The Ultimate Buying Guide: CBD Gummies For Pain Relief and Management
In the last few years, CBD gummies have risen in popularity, with many people raving about the numerous benefits of using these supplements. This is because for many, CBD relieves pain, stress, and anxiety, among its other vast benefits.
Besides being tasty and good for your well-being, CBD gummies and other CBD products, like tinctures, creams, and tablets, are recommended if you prefer to use natural products for anxiety, stress, and pain relief.
However, with the increase in popularity, the CBD market has also immensely grown. In turn, this has made finding the best CBD gummies for pain management quite challenging.
Fortunately for you, we are here to help. This article will show you why and how CBD-infused gummies help alleviate pain, especially if you do not want to use conventional treatments.
Transparency is our core value here at Innovative Extracts, so we will share the benefits and side effects of using CBD gummies. In addition, we will guide you on how to choose the best CBD gummies for your needs.
So, let's get started.
What are CBD Gummies?
Imagine your favorite gummy candy, but with CBD. CBD gummies are chewable edibles containing cannabidiol(CBD) derived from the hemp plant.
The cannabidiol is extracted from hemp, a cannabis plant, then infused into different products to make CBD gummies, tinctures, creams, and capsules. In addition, our CBD gummies for pain management contain added artificial and natural ingredients, adding to the numerous benefits.
CBD gummies are great for anyone dealing with pain, be it from working out or soothing chronic pain from specific health conditions. Additionally, they are perfect for beginners who want to try CBD products.
How do CBD Gummies Work for Pain Relief?
Who's up for a science class? Don't worry, it won't be like high school.
CBD gummies interact with the ECS (endocannabinoid system) in your body to provide relief from pain, stress, and anxiety.
So, how does this happen?
Cannabidiol is one of the many components (also known as cannabinoids) found in the cannabis plant. In fact, it is the second common active ingredient. However, it is important to note that CBD is not the same as THC (tetrahydrocannabinol), which gives the "entourage or high effect."
The endocannabinoid system in your body contains cannabinoid receptors that help regulate your body's physiological processes, like sleeping and controlling pain.
So when you consume CBD-infused gummies, CBD interacts with receptors in your endocannabinoid system to boost the natural mechanisms for inflammation and pain relief. As a result, many people feel happy, relaxed, and pain-free!
How Long do CBD Gummies Take to Help with Pain?
Since CBD gummies are edible products, they will take about 30 minutes to provide relief from pain. This is unlike other fast CBD administration methods like sublingual and inhalation. In addition, the effects will last up to about 4-6 hours.
However, this will greatly vary depending on your body composition and the brand of CBD gummies.
What are the Benefits and Side Effects of CBD Gummies?
Numerous studies have been done on the effectiveness of CBD in reducing pain, among other health benefits. For example, one research found CBD to be potentially be a natural solution for managing daily pain.
However, despite promising results from animal studies, some experts still argue that there's not enough evidence to support the use of CBD gummies for pain management.
That said, cannabis has been long used for its medical benefits. There is also overwhelming anecdotal evidence from users of CBD products supporting its therapeutic effects. However, it's important to ensure you are using high-quality CBD products in the right dosage, as you will see below.
Some of the benefits you can experience from CBD gummies include:
Relief from pain and inflammation in arthritis patients

Relief from neuropathic pain

Analgesic benefits

Anti-inflammatory properties
Besides relief from pain, our CBD gummies will also help you with:
Relaxation

Improved sleep

Stress management
Just like any other medicine or supplement, there are potential side effects of using CBD products. These include:
Irritability

Nausea

Fatigue

Drowsiness

Dry-mouth

Loss of appetite

Diarrhea
However, note that these effects are mild and rare and will vary from one person to another and by dosage.
It is also important to know that CBD use may increase the blood-thinning level in your body. For this reason, it's vital that you talk to your doctor if you are on other medications and wish to try out CBD gummies for pain relief.
How Many CBD Gummies Should I Take for Pain?
This is a popular question that has many, many answers! Here's why.
Some studies have found that the human body can tolerate up to 1500mg of CBD to alleviate chronic pain. However, chances are you don't need that much. So, we recommend starting small and working your way up when getting started with CBD gummies.
Depending on where you buy CBD gummies, you will find some CBD gummy brands with about 10-30mg per gummy. However, some people will require higher concentrations to experience relief.
This means consuming more CBD gummies per serving or choosing the best CBD gummies with a higher concentration. Unfortunately, this only proves that there's no standard dose for CBD edibles and other products.
A good rule of thumb is going for about 3-4mg per 10 pounds of body weight. This comes to about 20-40mg per day. Fortunately, we've done the math for you – our CBD gummies for pain management contain 25mg per gummy, making them perfect for beginners.
How to Choose the Overall Best CBD Infused Gummies for Pain Management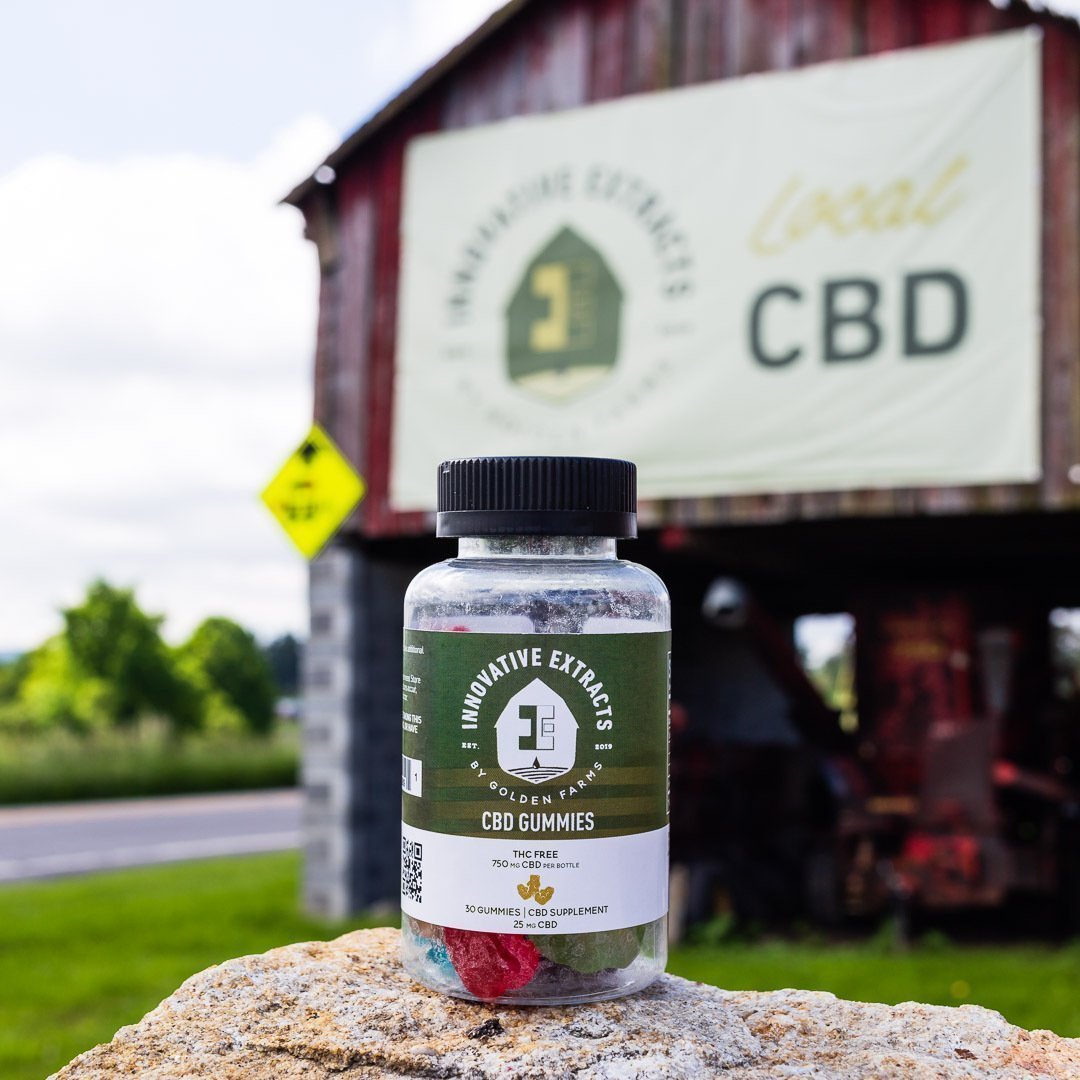 Now that we've shown you that CBD gummies are safe and provide numerous therapeutic benefits, the challenging part is choosing pure and high-quality CBD gummies. This is because there are many CBD gummy brands out there on the CBD market.
Ideally, you want to ensure you buy from a reputable brand and double-check the included ingredients. Below are things to consider when buying CBD gummies for pain relief.
Source and Extraction Method
The first consideration when choosing the best CBD gummies for aches and pains is the source and method of extraction. This means checking whether the hemp has been grown on U.S. farms.
The extraction method will also highly affect the CBD quality. What extraction methods are being used? This is important because high-quality hemp will not produce powerful CBD if poor extraction processes have been used.
CBD Type
Another factor to consider when choosing a CBD gummy brand is the CBD type or concentration. CBD products are available in three formulations or types; full spectrum, broad spectrum, and isolate. Let us look at each type below.
Full Spectrum CBD – Full spectrum CBD gummies for pain and aches contain all the cannabinoids naturally occurring in the hemp plant. These include phytocannabinoids like THC, terpenes, and flavonoids.

*Full spectrum CBD gummies contain less than 0.3% THC, the legal limit in CBD oils.

Broad Spectrum CBD – Broad spectrum CBD gummies do not contain THC. However, you will find other phytocannabinoids, flavanoids, and terpenes present.

CBD Isolate – CBD isolate means that no other components are present. This is only CBD in its purest form.
It is important to note that full and broad-spectrum CBD products are more effective than those made from CBD isolate. This is because the compounds present in the former work together to increase the effectiveness and benefits.
Will you experience the "entourage effect" after consuming CBD gummies from full and broad-spectrum CBD extract? Most likely not since the THC amounts present are not enough to get you "high," but again, everyone is different. Again, that's why we recommend you start with a smaller dose of CBD gummies and work your way up.
CBD Concentration
This is the concentration of CBD in milligrams(mg) per serving. The higher the concentration, the more mg per serving.
For example, our vegan CBD gummies contain 25mg per gummy, while our full spectrum CBD tincture contains 100mg CBD/ml. Either way, be sure to check the product labels when purchasing CBD products.
Ingredients Used to Make CBD Gummies
This involves looking at ingredients other than the CBD used to make the gummies. These include things like oils, artificial flavors and colors, and organic ingredients used to boost your body's overall health and wellness.
When shopping for CBD gummies, you should always read the ingredient label. Ideally, you want to ensure that safe ingredients have been used in the manufacturing process. In turn, this helps to prevent adverse effects as your body can react to toxic and unhealthy ingredients.
Product Testing for Safety and Quality
Product safety goes hand in hand with the ingredients used, hemp sources, and extraction processes. Therefore, you want to choose brands that grow their hemp in eco-conscious farms and apply safe practices throughout the growing and extraction processes.
Another thing to focus on here is third-party lab testing. Third-party lab tests are crucial as they confirm the safety practices and formulations of CBD products. For this reason, you will find lab test results for each product readily available on our product pages.
Transparency
Transparency is very important for brands dealing with CBD wellness products. This ensures that you, the buyer, have all information about the hemp sources, extraction processes, and practices.
Transparent companies, like Innovative Extracts, ensure that you are part of their journey by sharing these essential processes with you.
Brand Reputation
Similar to transparency, you should not overlook the brand reputation when shopping for CBD wellness gummies. This could be looking at the customer reviews (we get into this in detail below), the information provided, the quality of service, and the quality of products.
Customer Service and Accessibility
Customer service is very crucial when choosing which CBD gummies for pain to buy, especially if it's your first time. You want to buy from a reliable brand that will be there for you if and when you need after-sale services.
Another factor to consider here is accessibility. Although there is almost a saturation of CBD product brands on the market, most do not stand the test of time. So, ensure you buy from a reliable brand since you may need the same products in the long run.
Customer Reviews
Checking customer reviews is a great way to gauge past customers' perceptions of the CBD gummies for pain and other products. Here, you will learn the health impact the wellness gummies have had on other users, the effects, and also the brand's quality of service.
The customer reviews section will also inform you about quality issues like unsealed products, the wrong number of gummies in the packaging, and other frustrating issues for buyers.
Price
Some CBD gummies for pain and aches are relatively well-priced, while others are more expensive. One thing to note is that a high price does not always translate to high-quality gummies.
Instead, you want to choose CBD edibles priced within your range, especially if you'll regularly use the gummies for pain management. In addition, you want to ensure you don't compromise on quality by choosing the cheapest CBD products on the market.
Your Journey to Choosing the Best CBD Gummies
Although there still exists debates around using CBD gummies and related products in pain management, anecdotal and scientific research has shown CBD's efficiency in relieving inflammation and pain.
Some CBD products you can use to alleviate mild or chronic pain include CBD oil, gummies, tinctures, capsules, and creams. However, most people prefer CBD gummies as they are tasty and their effects last longer.
That said, there are several factors to consider before going this route, especially if you will be taking CBD gummies for the first time. The factors discussed above help ensure the safety of the CBD gummies for your overall health and wellness.
Why Buy Your CBD Gummies from Innovative Extracts?
At Innovative Extracts, we value your quality of life by creating natural products to ease your aches and pain. Our hemp is grown and extracted using pharmaceutical-grade equipment here at our local farm in rural Pennsylvania.
Besides ensuring high-quality CBD products and safety, we are transparent with you and share our independent third-party lab results on our product pages.
So, visit us if you're ready to try our CBD gummies for pain management, or contact us for more information on our products.