CBD Strains for Sleep – Which One is the Best?

A good night's sleep is essential for your health and general well-being. Unfortunately, anxiety, stress, pain, and never-ending video streaming services can affect your sleep and keep you up all night.
While many people having trouble sleeping peacefully or with sleep disorders, like insomnia, reach for sleep medications, the effects are simply hard to ignore. These include over-dependence, resistance, and even addiction!
As a result, many people have turned to CBD strains for sleep and relaxation. However, not all CBD strains improve sleep.
So, this article is for you if you are looking for the best CBD products and strains for sleep. Let's get started.
What Are CBD Strains?

CBD strains refer to different CBD varieties and how they affect your sleep quality.
But what is CBD?
CBD, cannabidiol, is among the active compounds found in hemp and marijuana plants.
CBD is often extracted and used to make CBD products like CBD gummies, tinctures, creams, and tablets. However, you can also smoke cannabis plants to benefit from CBD.
Before we delve deeper, one thing to note is that hemp and marijuana plants are scientifically different names for the same plant. They are called cannabis plants, flowering plants from the Cannabaceae family.
However, they are legally different.
How?
Hemp means cannabis plants with a THC content of less than 0.3%. On the other hand, Marijuana refers to a cannabis plant with a THC content of more than 0.3%.
In addition, marijuana is often interchangeably used with "weed" to refer to cannabis that will get you high.
Could Any CBD Strain Help With Sleep?

Cannabis strains can be largely classified into two groups, Indica and Sativa.
Indica refers to a short and bushy cannabis plant, while Sativa refers to a long and slender cannabis plant. However, other than the structural reference, each strain has different effects.
i). Indica strains
These are best for sleep aid as they have sedative effects. This is because they have a higher CBD content. However, note that this does not necessarily mean a lower THC content.
For this reason, cannabis indica will make you more calm, relaxed, and sleepy. Additionally, indica strains are used for pain management.
ii). Sativa strains
These are more energizing and give feelings of euphoria. They are best preferred when you want an energy boost. This is because they have more THC than CBD.
iii). Hybrid strains
These refer to a mix of Indica and sativa strains. However, note that these strains will have different effects depending on how the strain was made. For this reason, you may find Indica-dominant hybrids or Sativa-dominant hybrids.
However, while the Indica strain is considered the best CBD strain for sleep, the terpene profile, THC, and CBD content in a certain strain will affect efficiency in managing sleep disorders.
How Does CBD Work to Improve Your Sleep Quality?

Research has found that sleep is affected by many things, from chronic pain to stress and anxiety.
So, how does cannabis use help your sleep problems?
Your body contains an ECS (endocannabinoid system) that regulates and controls various processes. These include temperature control, learning and memory, pain control, appetite, inflammatory response, and your immune system.
In addition, the ECS system releases endocannabinoids, similar to the cannabinoid compounds found in cannabis strains.
When you take CBD for sleep regulation, the cannabinoids interact with the ECS receptors in your brain to support and boost your body's physiological processes. This is why you will feel sedated and fall asleep faster after taking CBD products, like CBD gummies, for sleep.
CBD Vs. THC for Sleep, Which is Best?
As we mentioned in the article, CBD can be extracted from either hemp or marijuana plants. For this reason, there may be traces of THC in the CBD products, depending on where it was extracted and the type of CBD formulation.
So, How Do Different Cannabis Strains Affect Your Sleep Quality?

One study conducted in 2008 found taking cannabis strains with more THC content than CBD to be more beneficial in managing sleep disorders. This is because THC is a sedative and will decrease REM sleep(rapid eye movement) which causes dreams while you sleep.
By reducing REM sleep and dreaming less, you spend more time in deep sleep, which is more restful and restorative. This is especially true if you have PTSD since less dreaming means fewer nightmares and more restful sleep.
However, it's important to note that REM sleep also benefits your immune system. Unfortunately, overreliance on high THC content could impair the quality of your sleep and affect your sleep cycle.
Therefore, it is safer and more beneficial to use high CBD strains for sleep management. This could be CBD products made from broad-spectrum CBD extract or infused with other essential cannabinoids, not THC, to promote deep and restorative sleep.
Hemp strains are preferred in this case since they are low THC strains.
Are There Side Effects of Using Cannabis for Sleep Aid?

Side effects of high THC strains for sleep aid include:
Anxiety

Psychoactive effects

Impaired memory on the next day

Sleepiness on the next day
Cannabis research has also shown that long-term use of THC as a sleeping aid could adversely affect your sleep and overall health. These include:
Taking longer to fall asleep

Frequent awakenings

Less time on deep sleep

Overall less sleep

Cannabis withdrawal effects like strange dreams

Reduced grey matter volume in the brain

Chronic bronchitis when smoked
Does A Low Dose of THC Help With Sleep?

While there's not enough cannabis research to support THC use in managing sleep problems, a lower dose is always advisable. In addition, the legal THC content allowed in CBD products is 0.3 % or less.
This means that most of the CBD gummies and tinctures for sleep you will find in the market will either be broad-spectrum CBD(aka THC-free) or full-spectrum CBD( less than 0.3% THC content).
What Are the Best CBD Strains for Sleep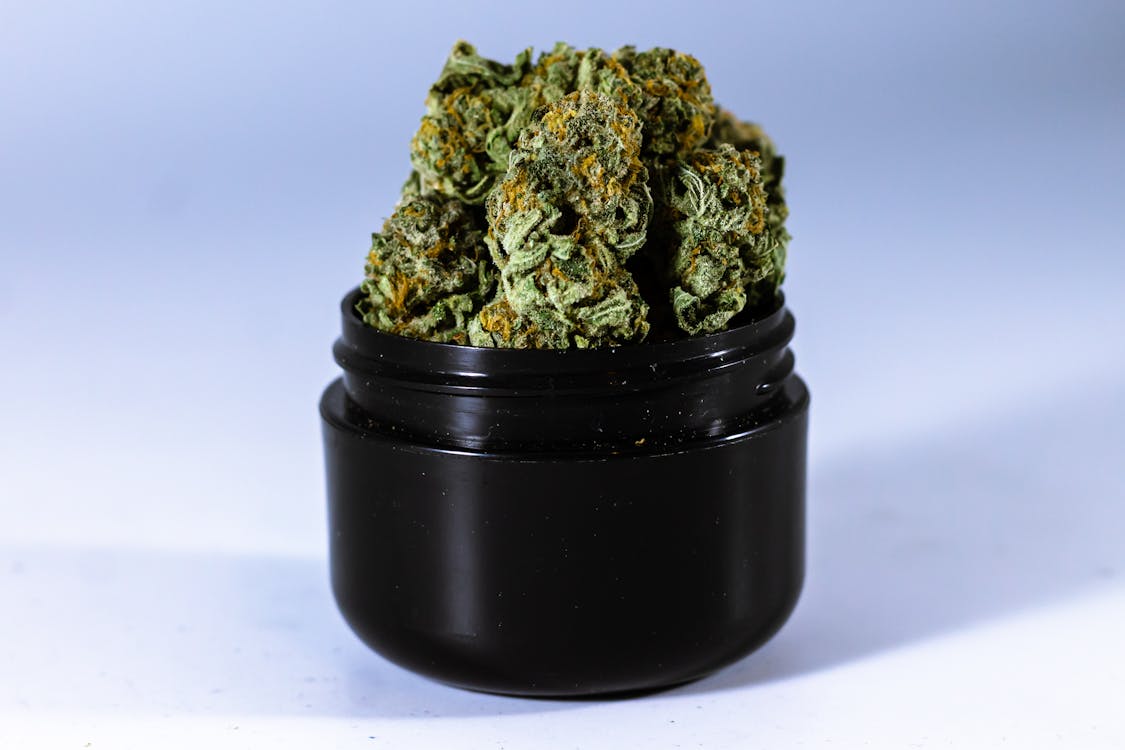 Finding the best CBD strains is not a walk in the park, especially for beginners. Ideally, you want to go for Indica strains or Indica dominant hybrids with a more CBD and low THC content or a well-balanced CBD to THC ratio.
Below are the best CBD-dominant strains for insomnia and other sleep disorders.
Harlequin
Harlequin is among the most popular strains with a 5:2 CBD:THC ratio. It provides you with a clear-headed and alert state of mind without making you drowsy. However, you will experience mild euphoria.
Harlequin helps manage pain and anxiety. In addition, most users find that it enhances whatever activities they are engaged in.
Ringo's Gift
With a 13:1 CBD:THC ratio, Ringo's Gift soothes and helps you relax without presenting a sedative effect. For this reason, it is used to alleviate pain and manage anxiety, PTSD, and migraines.
Ringo's Gift, a hybrid cross of ACDC and Harle-Tsu strains, can also be found in strains as high as 24:1. Additionally, its notes range from spice and mint to citrus and pine.
Harle-Tsu
Harle-Tsu is a cross between Harlequin and Sour Tsunami, both on this list. The CBD dominant strain boasts a CBD:THC ratio of 20:1. However, remember that this ratio varies depending on the season and the grower.
Most users love this CBD strain because it manages inflammation and relieves chronic pain. Additionally, its earthy notes with hints of pine and pepper combined with its subtle sweetness make it even more pleasant.
Cannatonic
Unlike the name suggests, this 2:1 CBD:THC strain will not leave you feeling sedated. Quite the contrary, Cannatonic helps you relax and unwind while providing a mellow high.
Cannatonic is often considered a medical strain and helps users treat migraines. Other benefits you can get from this strain include managing anxiety and chronic pain(all resulting in a good night's sleep).
In fact, some users claim that the pain melts away in about 10 minutes of using this CBD strain.
Sour Tsunami
Last on our list is Sour Tsunami. This strain has a CBD:THC ratio of about 3:1, making it perfect for managing inflammation and alleviating pain without the high caused by THC.
Sour Tsunami is popular among users looking to reap the medicinal benefits of high CBD without getting high! Additionally, its scent is similar to diesel but with sweet undertones, thanks to its cross between NYC Diesel and Sour Diesel strains.
What is the Best Way to Use CBD Strains for Sleep?
CBD strains come in various forms. These include gummies, tinctures, oils, creams, tablets, and pre-rolls. For this reason, each form will take a different time before you can experience the CBD benefits.
Below are a few ways to use CBD hemp flowers for sleep aid.
i). Sublingual – This method involves placing CBD oils and tinctures under the tongue, where they are absorbed into your bloodstream.
It is preferable if you want to experience CBD flower benefits fast or simply don't like smoking.
ii). Edible – This delivery method allows you to chew CBD-infused candies or gummies. It is perfect for beginners trying out CBD products.
Have we mentioned that CBD gummies are super tasty?
Unfortunately, edibles take longer to provide you with CBD benefits. This is because the CBD gummies need to be first processed(hello digestive system) and then absorbed into the bloodstream.
iii). Topical – Topical CBD treatments are used to target specific areas causing you pain or discomfort. Once applied to the skin, the CBD is immediately absorbed by surrounding tissue to provide you relief.
This method is also the least effective compared to using tinctures, smoking, or eating an edible.
iv). Inhalation – This method delivers CBD directly to the bloodstream. This can be by smoking the CBD hemp flower, dabbing, or vaping.
Different CBD delivery methods will have varying bioavailability(how much THC will reach your bloodstream). For example, inhalation provides the highest bioavailability since THC is directly absorbed.
Conversely, edibles have the least bioavailability since some THC is lost during the digestive process.
When Should You Take CBD for Sleep?

Different CBD formulations will take different times to affect you. For this reason, it is important to time when you take CBD strains for insomnia with your bedtime.
Edibles are a good starting point in this case. Although they take longer to kick in, they also last longer in your system.
This means you can take a CBD gummy about 40 minutes to an hour before bedtime and stay asleep longer while the CBD is still in your bloodstream.
However, keep in mind that everyone's metabolism is different. While it may take some people shorter to feel the sedative effects of cannabis strains, it may take others longer.
Conclusion

Suffering from a sleep disorder can have adverse effects on your health and wellness. These effects include fatigue, stress, low productivity levels, and unhappiness.
Many cannabis users have reported relief from pain and improved sleep. However, there is still a lot of debate between CBD and THC and which is best for insomnia patients.
Unfortunately, although a sedative, you may find that THC causes you to be more anxious or paranoid. In this case, CBD strains with a low THC content will be best for you. In addition, CBD has fewer side effects, making it a great option for pain relief, anxiety, and sleep.
How Does Innovative Extracts Help Improve Your Sleep Quality?

Restorative and restful sleep is important to us, just as it is to you. Fortunately for you, our THC-free CBD gummies allow you to get the full benefits of CBD without experiencing the high feeling.
Our gummies are also packed with melatonin which helps you relax and sleep better. Finally, if you want to sleep faster, our broad spectrum CBD + CBN tincture enhances CBD effects and provides additional benefits.
So, check out our CBD for sleep range if you are ready to switch off and wake up feeling relaxed and well-rested. You can also contact us for questions and inquiries about our CBD products.