Vinnie Sposato wears many hats in his essential role at Innovative Extracts. He handles most of the day-to-day labor intensive activities at the farm as well as performing all aspects of cultivating premium hemp. Vinnie notes, "We are seed to sale. We do everything."
On any given day, one can expect to see him selling CBD products in the farm's store, building and repairing structures, pouring concrete, repairing and maintaining farm machinery, working in the farm's extraction lab, germinating seeds, or tending to the hemp plants. "There's always something that needs to be fixed or built", he added.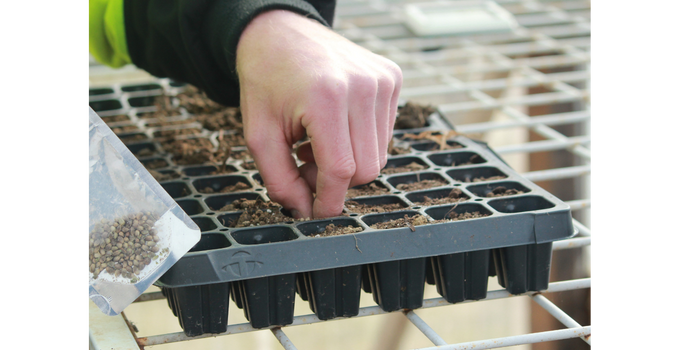 Vinnie's main focus and passion, however, is on hemp cultivation and extraction. He oversees growing the annual hemp crop, germinating the seeds and planting seedlings using his own hands. He also does most of the CBD extraction processing; and, according to Vinnie, "anything else that goes in with the hemp, from specializing equipment, to building high tunnels, to building chambers for germination so we can get early starts of hemp plants. We do a lot of maintenance preparing for next season."
Vinnie works part time at the farm and is a full-time student at Penn State University where he studies plant sciences. He is majoring in horticulture with a minor in agronomy. Previously, Vinnie studied business administration for two years before turning his focus to horticulture. Upon graduation, he plans to work full time at the farm.
One of the things Vinnie appreciates most about his busy work/school life is that he can apply knowledge he learned through his coursework directly to his job, and also apply techniques he uses in his job in the classroom at the university. He explained, "It's cool to see stuff I do here get carried over to school, and the stuff I do at school get carried over to here."
Wintertime is down time on the farm, so during the cold days of February he is busy preparing for the next season with tasks like servicing the machinery and equipment, researching quality seeds and ordering supplies, and building a new high tunnel for the farm's pick-your-own flower business. "Last year was very successful," says Vinnie. "We had a lot of engagement with the people that came for the flowers. And that helped with the CBD business because people would then come into the CBD store on the farm after they had picked their flowers. The new high tunnel will allow the existing high tunnel to be used for germinating seeds for this year's hemp crop so we can get an earlier start on the growing season than in past seasons."
Vinnie has been researching new hemp seed genetics to select for this season's hemp crop. He said, "We want to start trying different strains but it's not that easy. The hemp has to possess the genetics that will produce less than 0.03 percent THC." In March, he will begin germinating hemp seeds in a germination chamber that he designed and built himself. Last season, the germination rate was >99 percent, due in no small part to the chamber's unique characteristics.
Vinnie's hands-on approach to hemp production provides plenty of opportunities to observe site and soil conditions in the hemp field, and he has identified ways to reduce competition from weeds. Weed reduction reduces costs, helps streamline processes, and helps minimize plant diseases. "We do conservation tillage, which is a cover crop that is rotated back into the soil subsystem. We use a weed barrier which is a horticultural tarp that helps keep the weeds down," explains Vinnie. He also plans to fertilize using foliar spray and hydrate with drip irrigation. With ideal growing conditions and little to no weed pressure, the plants will reach full potential and expression with uniformity in size.
Vinnie's long-term plans in his role at the farm include always looking for best methods to maximize yields and streamline extraction and other processes and operations. Meanwhile, he is "just trying to forecast and plan the growing season."