Indica Vs Sativa Vs Hybrid: The Differences You Need to Know
Cannabis is a versatile plant, and there are different types of cannabis that each have their own unique properties. It's important to know the characteristics among different cannabis strains so you can select the one that best meets your needs.
By understanding the characteristics, psychoactive effects, benefits, and risks associated with the different strains of cannabis plant, you will be able to make an informed decision when selecting what type of cannabis you should use.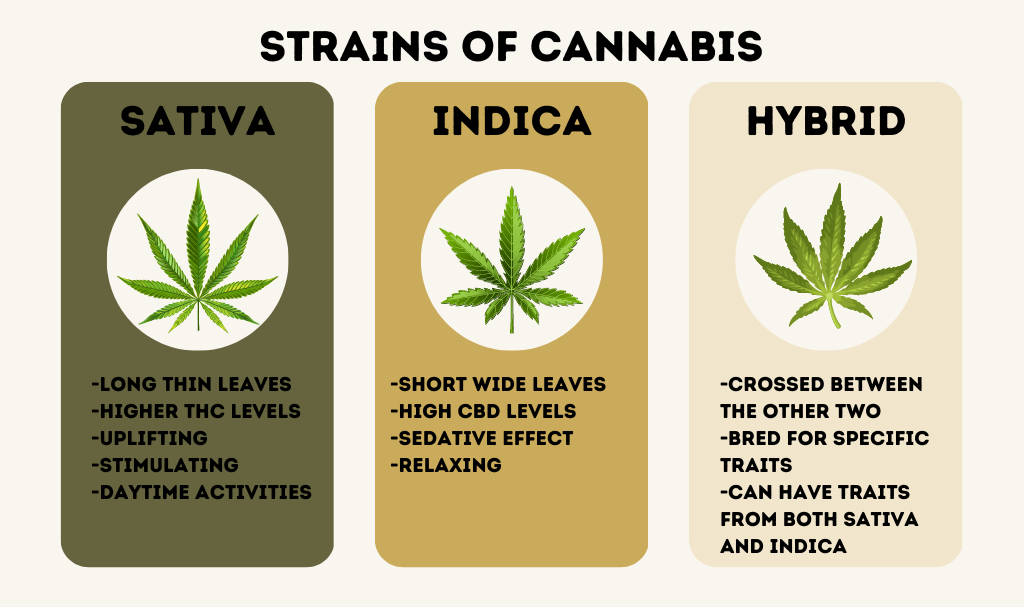 Definition of Cannabis
The cannabis plant is a naturally-occurring plant that has been used for thousands of years. The three main varieties of cannabis are indica, sativa, and hybrid cannabis strains. Each particular strain has its own unique effects and benefits, which can vary widely from one strain to another. In this article, we will compare the differences between indica vs sativa vs hybrid cannabis in detail.
Overview of Different Types of Cannabis – Sativa, Indica, and Hybrid Cannabis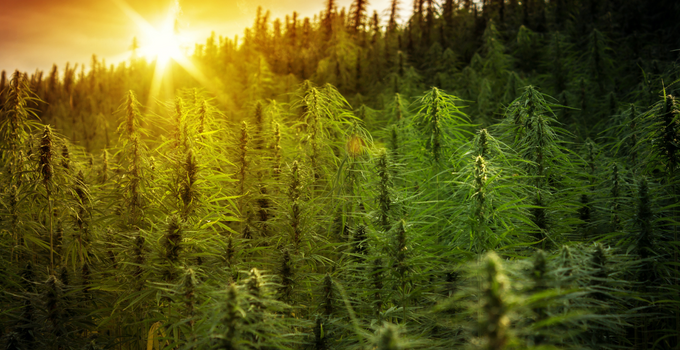 Sativa plants are very tall and spindly, with long thin leaves. Sativa strains are known to be uplifting and stimulating, making sativa a good choice for daytime activities. Indica cannabis is shorter and wider in stature with wide leaves. Indica strains are known to have more of a sedative effect than sativa varieties.
Indica strains are great for relaxation and are popular with cannabis users for pain, insomnia, stress, depression and anxiety. The effects of indica-dominant strains tend to be more deeply felt throughout the body, allowing users to reach a deeper level of relaxation than sativa varieties.
Hybrid strains are a cross between sativa and indica varieties and are generally considered to be in between sativa and indica in terms of effects. Hybrids are usually bred for specific traits, such as improved flavor or higher yields, but they can also be bred for desired psychoactive effects.
Sativa Cannabis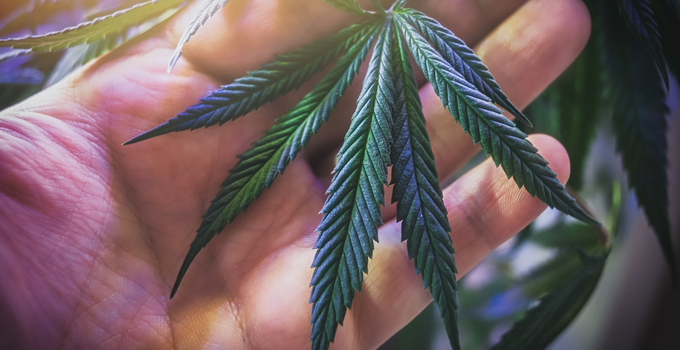 Sativa strains have been used for centuries due to their energizing effects and flavor profiles. Today they remain some of the most popular cannabis varieties because of their ability to provide an uplifting, stimulating buzz.
Sativa strains of cannabis tend to be more energizing than indica strains. Some people use it during the day to support their energy levels and enhance concentration.
Sativa strains may offer support for mood and stress reduction, and is thought to enhance creativity and mental clarity. Some sativa strains are also thought to have anti-inflammatory effects which may be of interest for those who contend with chronic pain. Some people use this cannabis strain to help alleviate nausea and vomiting.
A number of sativa strains are known for their high THC concentration. Jack Herer, Sour Diesel, and Green Crack are a few sativa strains that contain some of the highest amounts of THC. Other potent cannabis sativa strains include Super Silver Haze, Dancehall, and Dutch Treat.
When looking for a strain that has higher levels of THC, it is important to do research and find out what amount the particular strain contains. Also remember that cannabis affects everyone differently, so what works for one person may not work for another.
Knowing the right sativa strain can make all the difference when trying to get the desired effects from cannabis consumption. With some research and knowledge about cannabis sativas, you can find the perfect strain for you.
Popular Sativa Strains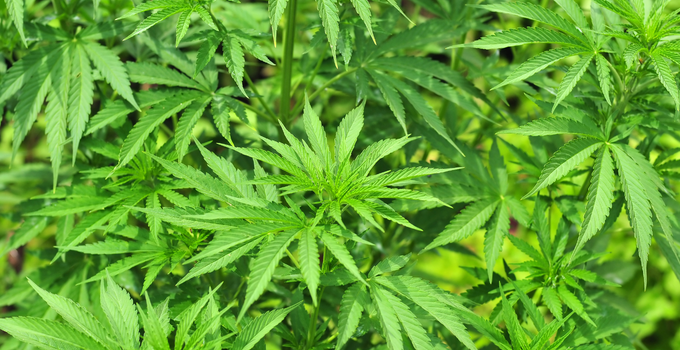 Sativa strains are popular and widely-used strains of cannabis. They are renowned for their uplifting, energizing, and often cerebral effects. Some of the more popular sativa strains include Durban Poison, Super Silver Haze, and Super Lemon Haze. These sativa strains have been bred to create an energizing high that can be felt both mentally and physically.
Durban Poison
Durban Poison is an incredibly popular sativa strain famous for its sweet smell and flavor reminiscent of anise. It was initially bred in South Africa and is believed to have originated from ancient sativa landrace strains.
Super Silver Haze
Super Silver Haze cannabis is a sativa-dominant strain that is renowned for its high levels of THC and energizing effect. Super Silver Haze cannabis users often report feeling uplifted and energized after consumption. The effects are described as being clear and focused to help improve productivity throughout the day.
This cannabis strain has also been reported to have strong physical effects with deep relaxation in some cases. Some cannabis users use Super Silver Haze cannabis for pain, nausea, insomnia and stress.
Super Lemon Haze
Super Lemon Haze is a cannabis sativa strain that originated in the Netherlands. It's a popular choice among cannabis users due to its high THC content and refreshing citrus flavor. The aroma of Super Lemon Haze has sweet lemon, pine, and herbal notes that come together to create an enjoyable experience. Consumers report feeling uplifted after consuming this strain, with increased creativity and focus as well as mild euphoria.
Delta 10 Pineapple Express Sativa Tincture by Innovative Extracts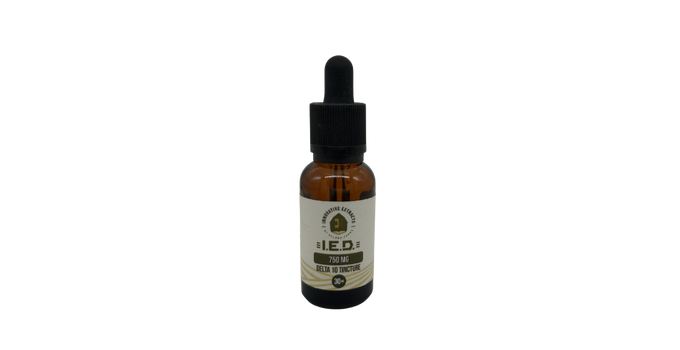 The Delta 10 Pineapple Express Sativa Tincture by Innovative Extracts is an exciting way to take your cannabis experience up a level. This tincture is formulated to provide maximum potency and flavor, with a strong Pineapple Express aroma that will tantalize your senses.
This high quality tincture is made with pure Delta 10 THC oil that has been carefully extracted from high-grade flower using innovative extraction methods developed by the experts at Innovative Extracts.
Unlike other tinctures on the market, this one contains only natural ingredients and no artificial flavors or preservatives—giving you naturally sourced Pineapple Express cannabis terpenes combined with ultra-pure Delta 10 THC oil for maximum cannabinoid potency and flavor. And because it comes in a convenient dropper bottle, it's easy to get the exact dose you're looking for. Delta 10 Pineapple Express Sativa Tincture by Innovative Extracts is the perfect way to elevate your cannabis experience.
Indica Cannabis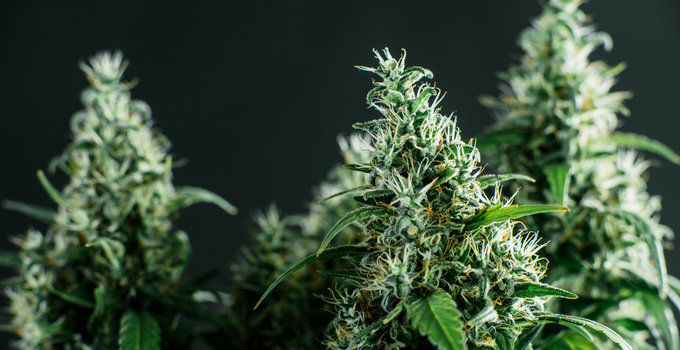 Indica is a species of cannabis that originated in the Indian subcontinent. Cannabis indica plants are better adapted to cooler climates and higher altitudes than its sativa counterparts, making it well-suited for outdoor cultivation in areas with milder climates. Unlike sativa, indica has thicker foliage and shorter flowering cycles, and it tends to be hardier against pests and disease.
Indicas are known for their sedative properties. One of the main features of indica effects is that it is felt throughout the body rather than just being experienced in the head. People have chosen indica strains for insomnia, pain relief, stress and anxiety relief, and depression. Indica strains of cannabis may be of interest for some people in managing symptoms associated with conditions such as multiple sclerosis, arthritis and fibromyalgia.
Indica cannabis strains are well known for producing high amounts of THC (tetrahydrocannabinol), the most abundant cannabinoid in cannabis plants. These cannabis strains typically produce short and dense buds, as well as a "body-like" buzz. Their naturally higher concentration of THC can reach more than 20 percent in some cases, making them the preferred choice for recreational marijuana users looking for an intense psychoactive experience.
Despite having high levels of THC, indicas tend to be less overwhelming than sativa cannabis strains thanks to the lower concentrations of other compounds like CBD (cannabidiol). This makes indica cannabis an excellent choice for those seeking cannabis-based relief without the intense euphoria of sativa cannabis strains.
A few well known indica cannabis strains include Hindu Kush, Granddaddy Purple, and Northern Lights.
Popular Indica Strains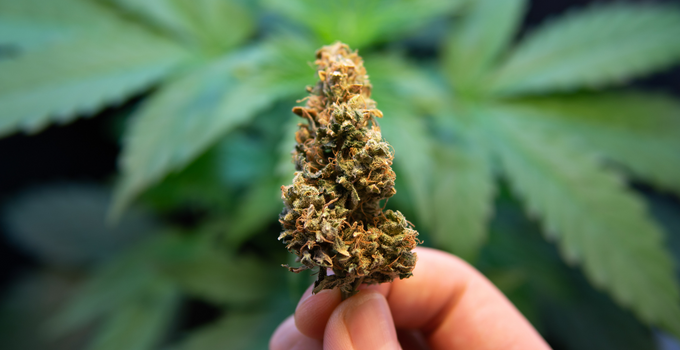 These strains are known for their sedative effects, making them a popular choice for those looking to relax and unwind. There are many indica strains available, but a few of the most popular indica strains include Hindu Kush, Northern Lights, and Granddaddy Purple.
Hindu Kush
This is an indica landrace strain that originates from the Hindu Kush mountain region near Afghanistan. This pure indica is renowned by cannabis connoisseurs for its earthy flavor with hints of spice. Its effects can range from relaxation to euphoria and even mild hallucinations.
Granddaddy Purple
Granddaddy Purple is an indica-dominant cannabis strain that has gained a reputation for its intense effects and fruity flavor. Its cannabis flower buds are large and dense, with an aroma of grape, berry, and skunk. Its effects can range from relaxation to increased appetite and sleepiness.
Northern Lights
Northern Lights is another classic indica cannabis strain, originating in Holland before becoming famous worldwide thanks to its powerful narcotic-like psychoactive effects. Its buds are dense and covered in resin, giving it a frosty appearance and an aroma of pungent citrus and sweet earth.
Innovative Extracts' Northern Lights D8 Oil w/Indica Terpenes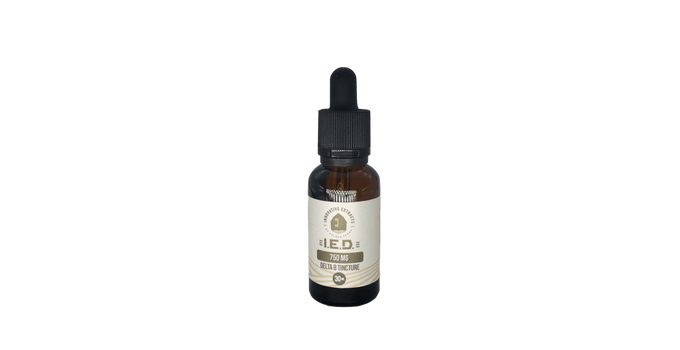 Innovative Extracts' Northern Lights tincture is a classic blend of true Indica terpene profiles, providing users with a relaxing experience that's sure to leave them feeling calm and tranquil. This tincture uses THC suspended in MCT oil, giving it an optimal absorption rate that allows the effects to take hold quickly.
The innovative extraction process used by Innovative Extracts gives this tincture its signature flavor and aroma of earthy pine, citrus and spice evident throughout. Not only does this provide an enjoyable taste but also unlocks the beneficial properties of the cannabinoids present within the blend.
In addition to being lab tested for potency and purity, Northern Lights tincture contains no artificial additives or diluents, giving you a safe and reliable product. Try Northern Lights tincture by Innovative Extracts and experience the calming effects of this tincture with every dose.
Hybrid Cannabis Strains
Hybrid cannabis plants are created when both indica and sativa cannabis strains are cross-bred together. Hybrids can offer a range of effects depending on the ratios of indica vs sativa genetics present in the strain. The most common hybrids will generally give users an energizing high that is accompanied by some physical relaxation.
Some popular hybrid strains are thought to have greater pain-relieving properties than sativa or indica varieties alone. Hybrid cannabis strains are becoming increasingly popular due to their ability to combine the best traits of both sativa and indica plants into one strain.
Sativa dominant hybrids
Sativa dominant hybrid strains, as their name suggests, have a sativa component that is dominant when compared to indica. Sativas are known for providing an uplifting and energizing high that may be helpful in providing mental stimulation and aiding creativity. These strains may also provide physical effects such as gentle muscle relaxation.
Indica dominant hybrids
Indica dominant hybrid cannabis strains typically contain more indica than sativa components. The resulting effects of these hybrids tend to have more of a mellow body high combined with the cerebral effects associated with sativa strains.
They support feelings of relief from stress and anxiety while allowing the user to remain functional throughout the day. Indica dominant hybrid cannabis strains may also possess sedative effects which make them particularly useful for those looking to get a good night's sleep.
How to choose the best hybrid cannabis strain for you
Sativa-dominant and indica-dominant hybrid cannabis strains provide different sets of effects that may be desirable for different individuals depending on their needs. By combining different cannabis genetics, hybrid strains offer users powerful and distinct effects that can help enhance their overall experience when consuming cannabis products.
It is important to do research and talk with your healthcare provider before making any decisions about what type of cannabis strain might work best for you. Whichever route you take, sativa-dominant or indica-dominant hybrid cannabis strains can offer unique effects.
Most Popular Hybrid Strains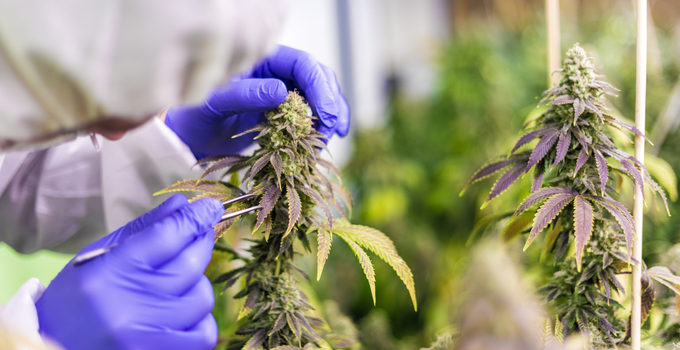 Sour Diesel
Sour Diesel is a sativa dominant hybrid that offers a powerful cerebral high and leaves users feeling euphoric and energetic. It also has an earthy flavor that some describe as similar to diesel fuel with tones of lemon and citrus. Its aromatic compounds have a pungent, sour, fuel-like scent, making Sour Diesel one of the most recognizable sativa strains on the market today.
Jack Herer
Jack Herer is also sativa dominant, and is named after the cannabis activist Jack Herer who was a major advocate for medical marijuana in the US during his lifetime.
This strain offers an uplifting sativa-dominant hybrid high that is perfect for relieving stress and fatigue while also promoting creativity. Its aroma contains earthy notes with tones of pine and citrus, making it an ideal choice for daytime use.
Super Lemon Haze
Super Lemon Haze is a popular sativa dominant hybrid. Its genetics come from two iconic cannabis strains – Lemon Skunk and Super Silver Haze. The psychoactive effects of this hybrid strain are known to be uplifting and cerebral, making it popular amongst cannabis connoisseurs and recreational users alike.
Green Crack
Another hybrid example is Green Crack. It gets its name from its intensely green buds and fruity aroma which many people compare to mango or peach.
This hybrid combines sativa genetics from its parent strain Skunk with Afghani indica genetics, resulting in an invigorating, cerebral high that starts off with an intense rush of energy before gradually calming down. It has a sweet, fruity flavor with undertones of mango and pineapple.
OG Kush
OG Kush is a hybrid cannabis strain that has become one of the most popular strains among cannabis enthusiasts. It is believed to have originated in Florida and is a cross between Chemdawg, Lemon Thai, and Pakistani Kush genetics. The buds are dense, sticky, and very pungent with an earthy aroma that is often described as being "diesel-like."
Its effects range from calming relaxation to invigorating euphoria depending on your tolerance level. It is known for its high potency and powerful head buzz that can be quite overwhelming to some users.
OG Kush may offer support for conditions such as stress, depression, migraines, pain relief and nausea. Many experienced cannabis connoisseurs consider OG Kush to be one of the best strains available. It's a great choice for the cannabis user who is looking for a powerful, energizing high.
Innovative Extracts' OG Kush D8 & THC-0 Disposable Vape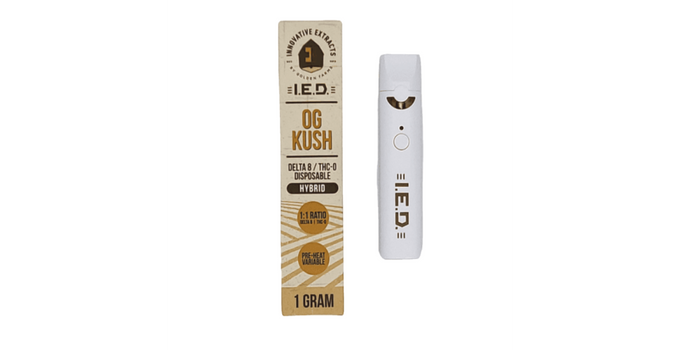 Innovative Extracts' OG Kush D8 & THC-0 Disposable Vape is a 1 gram vape containing a hybrid of two classic strains. The device comes preloaded with D8 and 0% THC distillate, providing an innovative way to experience the powerful effects of OG Kush.
This convenient vape product offers users a higher level of potency than other vaporizers on the market, giving an intense vaping experience without the harshness associated with other devices. The unique combination of compounds found in this vape creates an incredibly smooth and flavorful taste while delivering potent effects that many are sure to enjoy.
With its innovative design and top-notch quality ingredients, you can count on Innovative Extracts' OG Kush Disposable Vape to provide an enjoyable experience. If you're looking for a powerful vape with intense flavor, this is the perfect device for you. OG Kush D8 & THC-0 Disposable Vape by Innovative Extracts is sure to provide an enjoyable and innovative experience.
Cannabis potential side effects
Sativa cannabis strains can produce an uplifting, energizing effect, but users may find themselves feeling anxious, paranoid or overwhelmed when exposed to high THC levels that are common in sativa cannabis varieties. Additionally, when used irresponsibly and without caution, it may lead to panic attacks and other mental health issues.
Indica cannabis strains can potentially produce undesirable side effects which may include increased heart rate, dry mouth and eyes, redness in the eyes, short-term memory loss, sleepiness or drowsiness during the day, anxiety or paranoia, changes in mood and behavior, impaired coordination and reflexes.
Some people may also experience hallucinations or delusions when using cannabis products.
Use cannabis responsibly by starting with small amounts and gradually increasing your dosage over time to become familiar with the effects of the strain you are using. Cannabis affects everyone differently, so it is important to experiment and find the strain that works best for you.
Sativa, indica and hybrid strains of cannabis all have their own unique characteristics, benefits, and risks. Understanding the differences between these plants is key to selecting the type of cannabis that best meets your needs.
Consult with your medical practitioner first
It is always advisable to consult with a healthcare professional prior to using any form of cannabis, especially for individuals with pre-existing mental health conditions.
By being mindful of potential risks associated with cannabis use, users can ensure they are using cannabis in a safe and responsible manner.
With knowledge of the different types of cannabis available and advice from your doctor, you can make an informed decision about which type will offer the most therapeutic support for your individual condition.
Know your local laws on cannabis consumption
Many areas still consider cannabis illegal, so always be aware of your local laws before using any form of cannabis.
Always purchase from a reputable source in order to ensure quality and safety.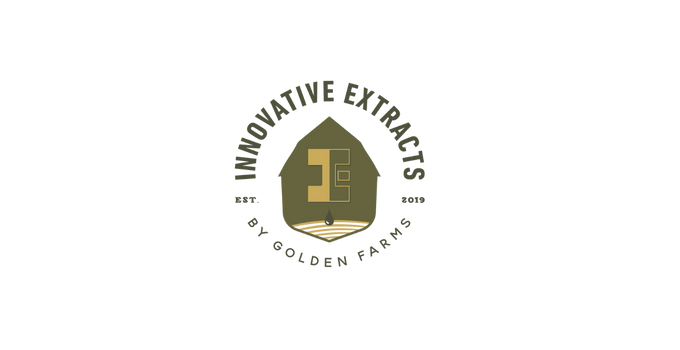 References
Kuhathasan, N., Minuzzi, L., MacKillop, J. et al. An investigation of cannabis use for insomnia in depression and anxiety in a naturalistic sample. BMC Psychiatry 22, 303 (2022). https://doi.org/10.1186/s12888-022-03948-6