Do CBD Gummies for Flight Anxiety Really Work?
CBD products have been increasing in popularity in recent years, and for good reason. Not only does CBD help you manage chronic pain, but it also helps you get a good night's sleep.
More recently, users have raved that CBD products have helped ease anxiety. So, if you are reading this article, you may be asking yourself this one question: Do CBD gummies for flight anxiety really work?
Short answer? Yes.
If you are just getting into the CBD world or are looking for a solution to combat travel anxiety, you are in the right place. This article will help you understand what CBD gummies are and how they work to manage flight anxiety.
In addition, you will learn how to choose the best CBD gummies for flight anxiety.
Let's begin.
What Is CBD?
Cannabidiol, often referred to in short as CBD, is one of the main active ingredients found in cannabis plants. However, unlike THC (tetrahydrocannabinol), also an active ingredient in cannabis, CBD does not make you high.
However, it's important to note that only hemp-derived CBD products are legal in the US. This is because hemp plants have a THC level of 0.3%.
Extracted CBD is infused into different substances and added helpful natural ingredients to make CBD products. These products include CBD edibles like gummies, CBD oils, creams, tinctures, and even tablets.
In addition, you may find CBD treats for your pet!
What are CBD gummies?
One way to consume CBD is by eating CBD edibles. These include CBD gummies, which are like your regular tasty and chewy gummies but infused with CBD.
CBD gummies offer a simple and tasty way to reap the benefits of CBD, such as relief from pain, improved sleep patterns, and combatting anxiety. For this reason, many people reach out for these tasty gummies to manage travel anxiety.
Like other CBD products, you will find that CBD gummies come in different formulations. These are:
Full-Spectrum CBD – Full-spectrum CBD gummies contain all the compounds of hemp plants, including THC, terpenes, and flavonoids.
Broad Spectrum CBD – Gummies with this formulation do not contain THC. However, other compounds like flavonoids and terpenes are present.
Isolate CBD – This is the purest form of CBD, meaning that terpenes, flavonoids, THC, and other components are not present.
How Do CBD Gummies for Flight Anxiety Work?
Your body has an endocannabinoid system (ECS) that helps regulate various physiological processes. These processes include sleeping, eating, and managing inflammation and pain.
CBD interacts with your body's ECS system to boost physiological processes when consumed. In turn, this helps your body experience relief from pain, combat anxiety, and get better sleep.
Why Do Travelers Choose To Use CBD Gummies for Flight Anxiety?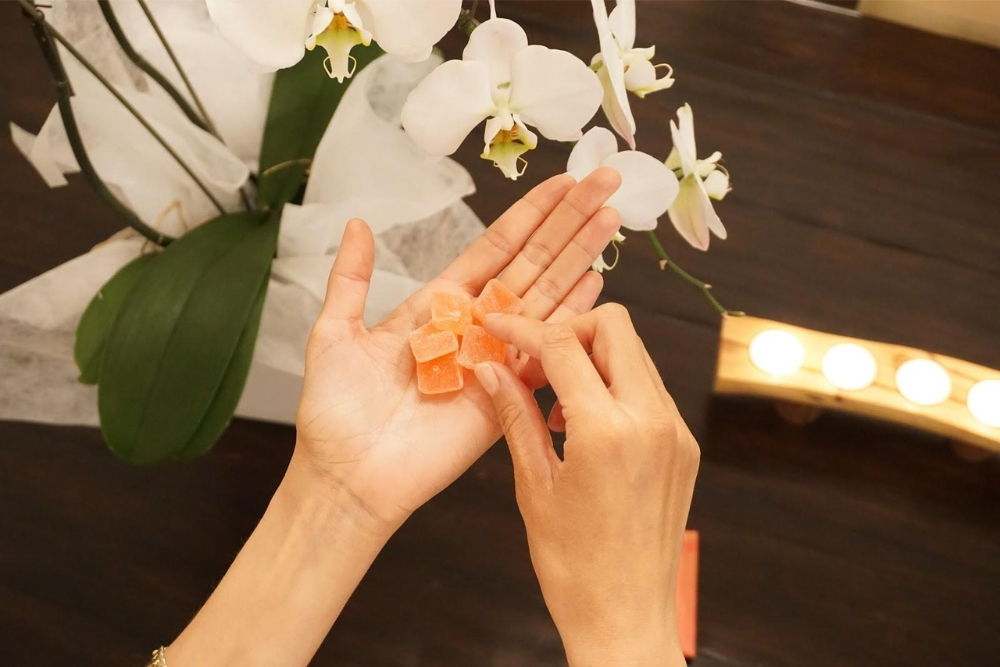 Unfortunately, although traveling by air is way safer than by road, flight anxiety is not uncommon for most people. This may be due to the general fear of flying, turbulence, the uncertainty of traveling to a new place, or even traveling with family.
Additionally, significant time differences when traveling can induce anxiety in some people.
CBD gummies help ease travel anxiety by calming the part of your brain that registers threats and responds to stress. In turn, you get to experience a stress and anxiety-free flight.
What Are the Benefits of Using CBD Gummies for Flight Anxiety?
Safety and effectiveness
CBD gummies (and other CBD products) are safe and effective treatment alternatives to prescription medication for anxiety and pain relief. In addition, you will not suffer from addiction, an often side effect of relying on prescription medication.
Calm and helps ease anxiety
By interacting with the cannabinoids in your ECS, CBD helps dampen and calm the stress response part of your brain. In turn, you are more patient and at ease when dealing with anxiety-inducing activities like a rerouted flight or an emergency when flying.
Provide acute or chronic pain relief causing discomfort and anxiety during flights
Pain of any kind, acute or chronic, can worsen your flight anxiety. Certain medical conditions, such as migraine attacks and arthritis, can make traveling uncomfortable, especially if you are in pain.
Fortunately, CBD gummies help you manage inflammations and eliminate pain that would otherwise make your flight challenging.
Traveling for many hours in planes and cars and sleeping on uncomfortable mattresses can also lead to body aches and pains. If this is true for you, ingesting tasty CBD gummies can help you manage the pain.
In addition to CBD gummies, you can use CBD cream topically to target areas with skin irritation or pain, making your flight experience more comfortable.
Ease jet lag
Another benefit of CBD gummies for flight anxiety is that they help ease jet lag.
How?
Stress and flight anxiety tend to make you sleepless. That's where CBD gummies come to your rescue. By providing calming effects during your flight, you can get better rest and sleep. This, in turn, helps ward off jet lag.
Other benefits of using CBD products for Flight Anxiety include:
Easy accessibility. CBD products are easy to access online and at over-the-counter CBD pharmacies.
CBD oils help deal with dry skin when traveling
What Are the Disadvantages of CBD Gummies for Flight Anxiety?
While CBD gummies can help manage travel anxiety, there are a few caveats you should know about first.
These are:
Unclear rules around carrying CBD during a flight
Unfortunately, although CBD products are easily accessible in the US, the legalities around CBD are still murky.
The first thing to note is that although CBD can be extracted from hemp and marijuana plants, only hemp-derived CBD products are legal at the federal level in the US. This is because hemp contains a small THC percentage of 0.3%.
However, remember that CBD products are not legal in all US states. For this reason, it's important to research the different state laws about CBD beforehand.
When traveling outside of the US, it is always advisable to research CBD laws in each country before tossing CBD gummies in your carry-on.
For example, many countries in Europe like Iceland, Montenegro, and Monaco consider CBD products illegal. In addition, CBD is illegal in most countries in Asian like Cambodia and Vietnam.
While certain conditions in South Africa consider CBD legal, most African and Middle Eastern countries ban cannabis products.
TSA rules are also important to consider if you plan to carry CBD gummies on a plane. You must ensure that your tasty CBD gummies contain less than 0.3 THC. Other products like tinctures, creams, and oils should also be less than 3 ounces.
As a rule of thumb, you should find out if the country you are traveling to allows CBD products. It is also advisable to familiarize yourself with the ingredients in CBD gummies for flight anxiety.
Additionally, you should check if the ingredients meet the federal requirements and whether or not your CBD gummies contain any THC.
Not recommended to take for the first time during a flight
Taking CBD for the first time on your flight is hands down, not advisable. This is because different people react to CBD products differently.
For this reason, it is recommended to try CBD gummies for flight anxiety a few times before your trip. This way, you can determine how many CBD gummies will be enough to manage travel anxiety. Additionally, you will know how your body reacts to CBD.
May have negative anxiety effects for some people
Unfortunately, while CBD is known to provide calming effects, THC may induce panic attacks in certain people. This means that some people may negatively react to full-spectrum CBD gummies as they contain both THC and CBD.
When Should You Use CBD Gummies for Anxiety?
Days before a flight
Taking your CBD gummies for anxiety a few days before your flight helps determine how your body reacts to CBD. Additionally, you get to know if a high or low dose is better for anxiety and pain relief.
During your flight
Using CBD gummies for flight anxiety during your flight helps to manage your fear of flying and provides a relaxing experience. You can use gummies while going through airport security to give your body ample time before the effects kick in.
After a flight
Jet lag is not uncommon when traveling, especially if you are on a plane for long hours. For this reason, taking CBD gummies after your flight is best to promote calm, rest, and restorative sleep. In turn, this will help ease jet lag.
How Do You Choose the Best CBD Gummies for Flight Anxiety?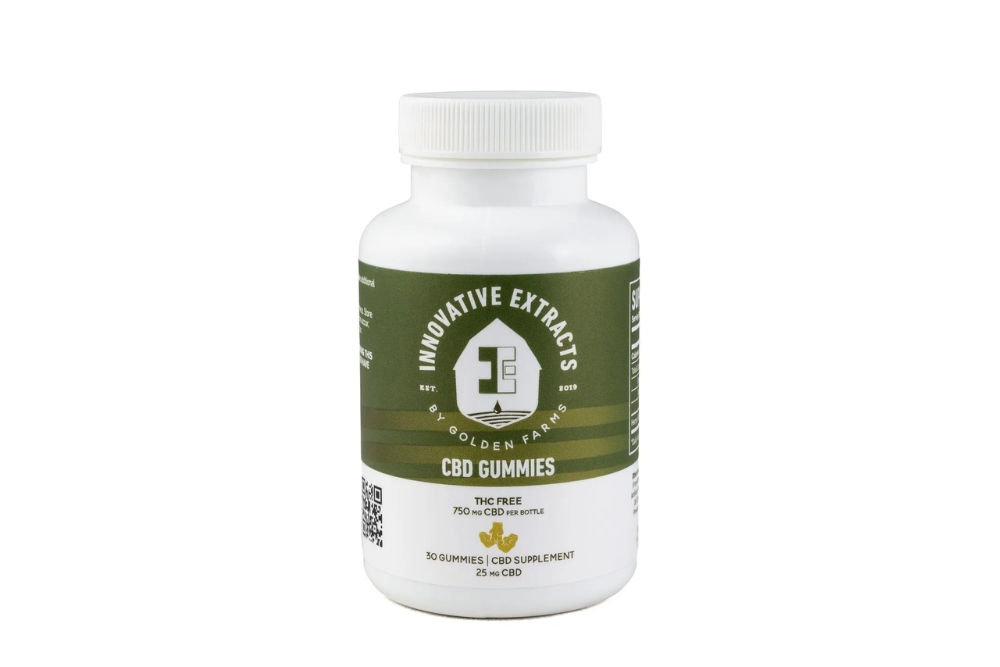 With the CBD market on the rise, choosing the best CBD gummies for flight anxiety is very important. Unfortunately, it can also be a daunting experience for beginners.
Fortunately for you, below are a few things to be on the lookout for when buying CBD gummies for flight anxiety.
Type of CBD
CBD gummies are sold in three formulations (types). These are full spectrum, broad spectrum, and isolate CBD. Full-spectrum CBD gummies are more effective as they contain THC and other components that work together to provide more benefits.
CBD concentration
This refers to the milligrams (mg) of CBD present per gummy. For example, you may need more potent CBD gummies to manage pain causing flight anxiety than you would for sleep.
For this reason, be sure to match the concentration to your needs to reap CBD's full benefits.
Added ingredients
You will often find other natural ingredients added to CBD gummies to provide more benefits. In this case, you should countercheck the ingredients to ensure they are safe for consumption.
You should also confirm that you are not allergic to some ingredients infused in the gummies!
Third-party lab testing
Third-party testing by an independent laboratory ensures that the ingredients present in the CBD gummies are as stated on the product label. This is especially important when monitoring the amount of THC in the gummies.
Brand transparency and reputation
Brand transparency is key when buying CBD products. A transparent brand will inform you of its processes and safety practices when handling CBD. Additionally, they will share information like independent lab tests with the customers.
Likewise, you should not ignore brand reputation. This gives you the customers' perception of the company. One way to gauge a CBD brand's reputation is by looking at the customer review section.
Here, you can find out the quality of the CBD gummies, side effects to experience, customer service, and other things relating to the brand.
Tips To Remember When Carrying CBD Gummies for Flight Anxiety
Research the cannabis state laws of the particular state you are traveling to. Additionally, find out the legalities surrounding CBD products in different countries beforehand.
Do not use CBD gummies for the first time during your flight. Although CBD gummies are safe and do not present major negative side effects, it is always best to use them several times before your flight.
Do not hide your CBD gummies from TSA security. This may look like you are attempting to pull a fast one.Instead, be upfront about your CBD products. Additionally, you can present documents like a medical marijuana license if possible.
Ensure your CBD products have less than 0.3 percent THC level. This is the legal limit for CBD gummies in the US.
THC may appear on drug tests. Be sure to stay away from full spectrum CBD gummies if you will be doing drug tests.
Speak to your doctor before taking CBD gummies if you are on any other anxiety medication.
Delays and cancellations are almost unavoidable. Leave adequate time for the unexpected to avoid anxiety and panic attacks.
Are Innovative Extract's CBD Gummies for Flight Anxiety Effective?
Pain, stress, general fear of flying, and the anticipation of visiting a new country can cause flight anxiety and an overall bad flying experience. Fortunately, our CBD gummies are formulated with safe, natural ingredients to help combat anxiety.
In addition to CBD gummies, our hemp-derived CBD products provide relief from inflammation and pain to improve your health and wellness. You will also find third-party lab tests on our website to guarantee your safety and quality.
Flight anxiety can result in an uncomfortable and tiresome experience. Check out our CBD gummies to manage anxiety and have a memorable trip. You can also contact us to find out more about our products.